Title
Hella-ween - the 5 best Halloween haunts around the world
Published
October 18th, 2013
The US of A may be charged with co-opting this pagan holiday and turning it into a commercial celebration, but don't let that stop you from letting your freak flag fly. As Lindsay Lohan declared in 'Mean Girls', 'Halloween is the one night a year when girls can dress like a total slut and no other girls can say anything about it'.  And, while you don't have to vamp up (unless you're actually dressing up as a vampire), what's not to love about getting around in an outlandish costume, asking strangers for sweets and getting up to mischief?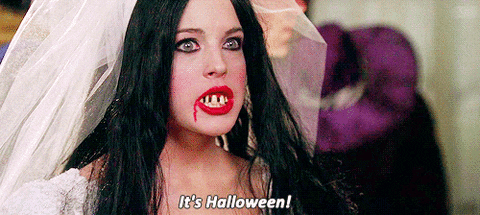 Halloween, short for 'All Hallows' Eve', has its roots in the Celtic pagan celebration of Samhain, which marked the end of the harvest season and the beginning of winter. Traditionally observed in Ireland, Scotland and the Isle of Man, the eve of All Saints' or Hallows' Day (November 1) remembered the dead, saints and dearly departed. Mass Scottish and Irish immigration in the 19th century brought Halloween traditions like trick or treating, jack-o'-lanterns and costumes to North America and the ghoulishly great holiday it is today. Here's our top 5 spots to make a scene this Halloween.
USA
From major metropolises to small-town USA, no one does All Hallow's Eve like the Yanks. Lifestyle doyenne and Halloween tragic Martha Stewart has elevated the holiday to include pumpkin carving tools, themed canapes and DIY decorations. And never let it be said Halloween in the US isn't educational with costumes acting as a barometer for what's trending. Think Bill Clintons and Monica Lewinskys at the height of the '90s presidential cigar scandal and the Noughties preponderance of vampires and zombies. In 2013, we're tipping Miley Cyrus' foam finger and twerking leotard as a popular costume option.
Scotland
The Celtic tradition of Halloween is strong in Scotland and Ireland with shared traditions that date back to the pagan celebration of Samhain. Common customs on October 31 in this neck of the woods include guising (short for disguising) - the local practice of trick or treating. Halloween parties in Scotland also include dunking or 'dooking' for apples as a nod to the ye olde harvest days or attempting to eat a treacle-covered scone hanging by a string. Pumpkin carving is also a popular tradition, which replaces the traditional lanterns fashioned from turnips (neeps) – pumpkins offering a far superior surface to etch scary faces upon.
Ireland
Buying or baking barmbrack, a fruit bread with different charms baked inside is still a popular Halloween tradition in Ireland. Whoever finds the ring charm is said to find their true love in the coming year, while the coin points to a prosperous year. Coins are also hidden in the traditional Irish Halloween dinner of colcannon – a boiled potato, onion and kale dish – for kids to keep – perhaps an incentive to eat your greens!  It's not all romance and fortune-telling games on October 31, Irish revellers also light bonfires and set off fireworks while costumed zombies, ghosts and goblins run riot making it a busy night for emergency services!
Canada
Just like their southern neighbours, Canadians really get into the spirit of Halloween. Think hayrides, trick or treating, scary costumes, sourcing the biggest pumpkin you can get your hands on from a dedicated patch and making your way through a corn maze at night. Just with flashlights. I mean, 'Children of the Corn' or 'Signs', anyone? There's also zombie paintball available at select fall farm venues for your own version of 'Shaun of the Dead', although I'm pretty sure slowly shuffling and recently risen peeps are not a fair target! And, what to do with all that pumpkin you scooped from your jack-o'-lantern? Make a pumpkin pie, of course!
Mexico
While October 31 has some traction in Mexico, the big soiree for the afterlife is on November 1 and 2, Dia de los Muertos or Day of the Dead, celebrated as a national holiday. A mix of pre-Columbian and Catholic traditions, Day of the Dead is a way for Mexicans to honour their dearly departed. Skeleton brides (Catrinas), sugar skulls (calaveras) and coffins, pan de muerto, candles, incense and orange Mexican marigolds are some of the ofrendas or offerings that decorate elaborate altars along with the deceased's fave food and bevvies like tequila for tired and emotional spirits. Vibrant parties also take place in cemeteries in Mexico.