Title
New York City Food Wish List
Published
November 27th, 2013
Times Square, the Statue of Liberty and the Empire State Building are all well and good, but can you eat them? Almost certainly not. Sure, New York is a visual feast, with its soaring skyscrapers, pretty people, sprawling patch of parkland and other cosmopolitan charms, but what about an actual feast with tangible edibles? While others may cram their travel wish lists with heritage sites, cultural gems and architectural marvels, mine are inevitably focussed on food, food, glorious food.
In the New Year – which is 35 days away, cue simultaneous freak-outs – I have made it my mission to fulfill my New York City food wish list by savouring a slice of New York-style cheesecake; to snack on Souvlaki from questionable street-food vendors; to enjoy a rendezvous at the Russian Tea Room; to be utterly confused at a Major League Baseball game with a hotdog in hand (Let's Go Mets!). For my encore, I will make a pilgrimage to Whole Foods for something Lorna Jane-approved, enjoy a Big Gay Salty Pimp ice-cream and probably camp outside Dominique Ansel's for an early morning cronut fix. There will be blintzes and bagels galore and it will be magnificent.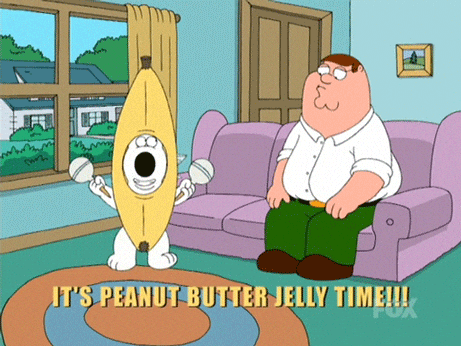 There is an entire store dedicated to peanut butter in New York. Forget lunching here, I'm moving in! There are 10 PB variations to sample including Cinnamon Raisin Swirl, White Chocolate Wonderful and Dark Chocolate Dreams. As an homage to The King, I will be singing "Hold Me Tender" to The Elvis: a grilled PB sanga stuffed with bananas and honey... and bacon. If I haven't fallen into a blissful diabetic coma by this stage I might take a Cookie Dough Surprise to go (PB on one side, vanilla cream cheese on the other, smooshed with choc chips) and maybe a few peanut butter "squeeze packs" to keep me going. My handbag is going to be full of peanut butter, and I'm okay with that.
Being a huge fan of the humble sausage sizzle, I doubt I will be able to go past an iconic hawt-dawg joint of such epic proportions. In my misguided youth, we would have referred to an establishment like the lauded Papaya King (and the slightly shadier Gray's Papaya) as "town food" – the sort of spoils you crave after a night on the town when you're sufficiently sloshed. The snags are almost always rated top dog (sorry) even by the likes of Anthony Bourdain, but the jury is still out when it comes to the fruity "papaya" drink lending its name to the East 86th Street biz. The locally produced frankfurters come as standard with onions, sauerkraut, relish and condiments, but coconut champagne and curly fries wouldn't go astray.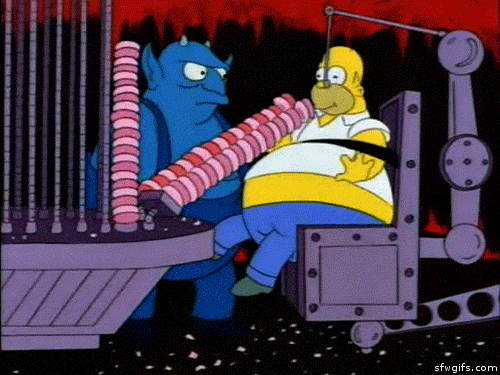 If there really was such thing as a doughnut plant, I would be buying up acreage and sowing those seeds from here to obesity. Doughnut Plant says yes to organic ingredients and no to trans fats and all things artificial. A quick mapping reveals there are countless doughnut peddlers all over Manhattan (including Dean and Deluca and Shake Shack), in other words plenty of chances to try a Blackout (chocolate cake doughnut filled with chocolate pudding) and mini Doughseeds in varietals such as rose, matcha green tea, and blueberry cream. They have been described as "deep-fried works of art". DaVinci ain't got nothin' on Doughnut Plant.
Katz's Delicatessen Reuben Sandwich
The Reuben is my Everest. It both inspires and terrifies me. Hand-cut pastrami or corned beef, Swiss cheese, Russian dressing and sauerkraut are piled high on rye bread. There is a particular method to devour the madness that is a Reuben. Step 1: Unhinge jaw. Step 2: Insert Sandwich. Other menu items I would like to ingest and/or roll around in include the deliciously Yiddish-sounding Matzo Ball Soup, Knishes, and Bagel, Lox and Cream Cheese – spruiked as "New York on your tongue!" Much nicer than licking Fifth Avenue, I'm sure. Plus I want to see if anyone sits at the When Harry Met Sally table and "fakes it" Meg Ryan style. It might be up to me...
In the wise words of food royalty Julia Child, "a party without cake is just a meeting". Amen, Julia. Magnolia Bakery has been a West Village institution since it threw back its doors and bequeathed classic American baked goods onto an unsuspecting public. Their cupcakes, in particular, have earned a cult following. I will now spend the next few months deciding if it will be Red Velvet, PB&J, Pumpkin Pecan or Snickerdoodle that wins my affections. Popular culture hoisted Magnolia upon its shoulders in the 90s, spurring the "cupcake craze" that comes and goes in waves, but it will be back. Nobody puts cupcake in the corner.